Yes, folks, we have made our safe passage across the Gulf of Maine from Port La Tour to Portland, ME.
It only took us about 50 some hours. It turned out that we got some excellent sailing winds leaving the coast of Nova Scotia late Friday morning. It was a little rough coming into the US Coastal waters this morning, but nothing crazy. And we got some excellent sun in the middle of the trip :)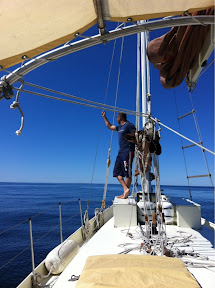 Staring out at the Gulf of Maine looking for whales or dolphins
We have now docked in one of the marinas and cleared customs without any problems. So what's the first thing we do when we get on land? Yup, you guessed it ... A good scrub in a hot shower and a massive load of laundry.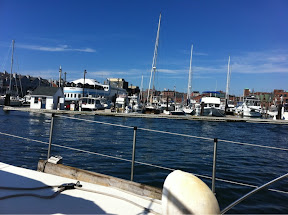 DeMillo's Restaurant and Marina
We'll write more once we get some well deserved rest.